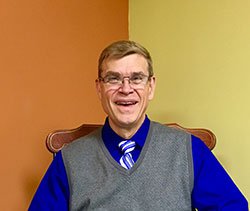 Dr. Scott Carlson is an active member of Berean Church. He has been a part of the leadership for over 20 years and is the brother-in-law of Pastors Mark & Stephanie Moder. He is highly regarded in the city of Pittsburgh and is considered one of the finest Christian counselors in the region. His ministry operates out of the church, but is a private practice.
DR. SCOTT CARLSON'S BIOGRAPHY:
A WORD IN SEASON: Scott Carlson is a Doctor of Psychology with over 25 years of experience working with both severely mentally ill people and those who just have life adjustment issues. He's worked with people from 18 to 85 years old. Dr. Carlson completed Pastoral Studies at Rhema Bible College, and later, New Testament Studies at Oral Roberts University. Dr. Carlson is trained and called to combine the wisdom of God with an understanding of good mental health practices to help those struggling with all manner of life problems. His broad life experience serving in the United States Coast Guard, working as a paramedic, and working in a sleep lab, suit him well to work with people dealing with a variety of life challenges.
CONTACT INFORMATION:
Appointments are available every day but Sunday, and he has some evening hours as well. Dr. Carlson takes most major insurances (including Medicare and Medical Assistance).
Contact Dr. Carlson @ 412-979-8595 to schedule an appointment.